History
DEMPSEY'S STAGE BLOOD - HISTORY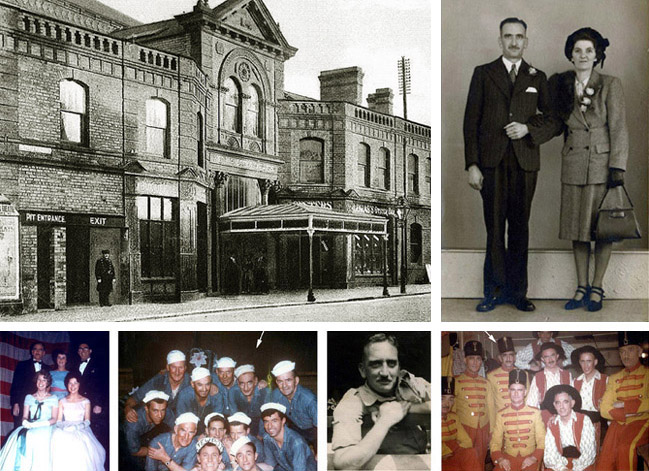 James and Vickie Dempsey
The original recipe for 'Dempsey's Stage Blood' can be traced back to
Her Majesty's Theatre, Carlisle, in the 1950's.
The fake blood was created for various stage productions by James and Vickie Dempsey
when James was Hon. Secretary and actor at the Carlisle Light Operatic Society.
Vickie was a Wardrobe Mistress, a Committee Member and also acted on stage.

Their children, all of whom played a part in theatre life, would watch in awe
as their parents prepared the mixture from food colourings and
sweet solutions retrieved from the shelves of their well-stocked pantry.
In the 1960's Dempsey's Stage Blood oozed it's way to the Harrogate Theatre, when the family
moved to Yorkshire and James became Lighting Designer & Chief Electrician.
In fact all the Dempsey family worked in the theatre during the 60's & 70's.

The realistic fake blood was used to great effect in a stage production of 'The Robe' in 1967.
Dempsey's blood was soon flowing again, when in 1969 the theatre staged a memorable production of
Bertolt Brecht's 'Antigone'.
The Harrogate Adveriser wrote:
"Written in 1948 "Antigone" is not for the faint hearted.
It opens on a mild note, but soon slips into the macabre as a bloodstained body is seen hanging by its feet.
Effects include the wail of air raid sirens, moving shapes, weird lighting effects, hysteria and so much noise from a murderous mob, some of whom dash round the theatre shouting and crying, that some patrons were trembling in their seats!"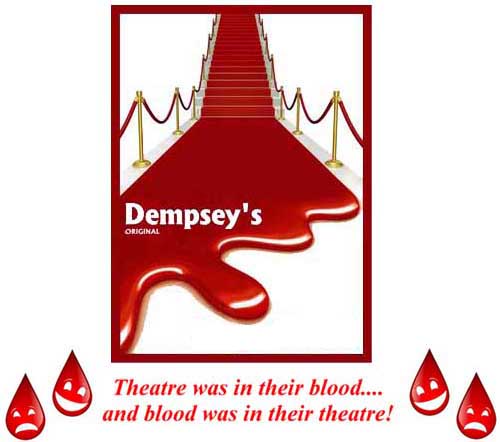 The Dempsey's Original Stage Blood also follows the Dempsey blood-line and the Dempsey family have made slight modifications over the years to keep this product centre stage and in the limelight.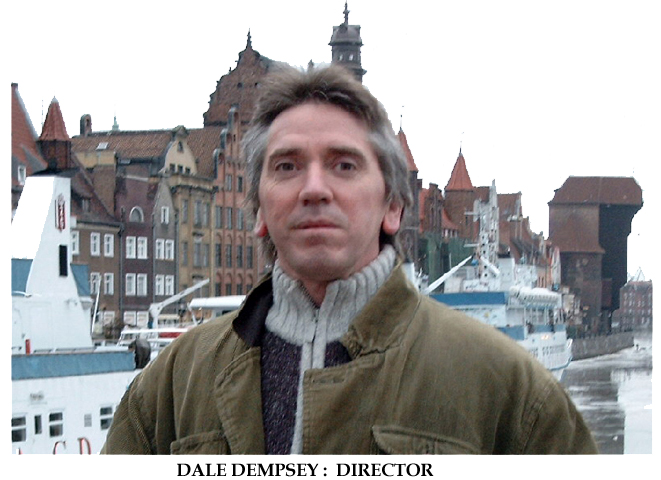 Dale Dempsey was born on 20th October and shares the same birthday as Bela Lugosi (who was born about 80 years earlier we hasten to add!). He played Dracula in the classic 1931 film ( Lugosi, we hasten to add!).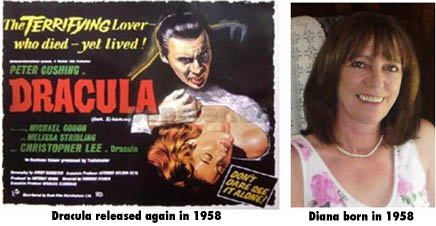 1958 was a great year for horror being born. The black and white film, 'The Return of Dracula'
was released in the US, this was closely followed by the Hammer Film Production of 'Dracula',
filmed in colour, which became a classic. Then, to top it all, Dale's twin sister Diana was born!

Dale became a Hammer movies fan when he was 'seduced' by Queen Tera from the film,
'Blood from the Mummy's Tomb' played by the lovely Valerie Leon, when he first saw it on tv in the late 70's.

He is also the proud owner of two original film posters from the 1971 production.
Dale also owns some original signed photos and posters from other 'Hammer Greats' including
Peter Cushing and Christopher Lee.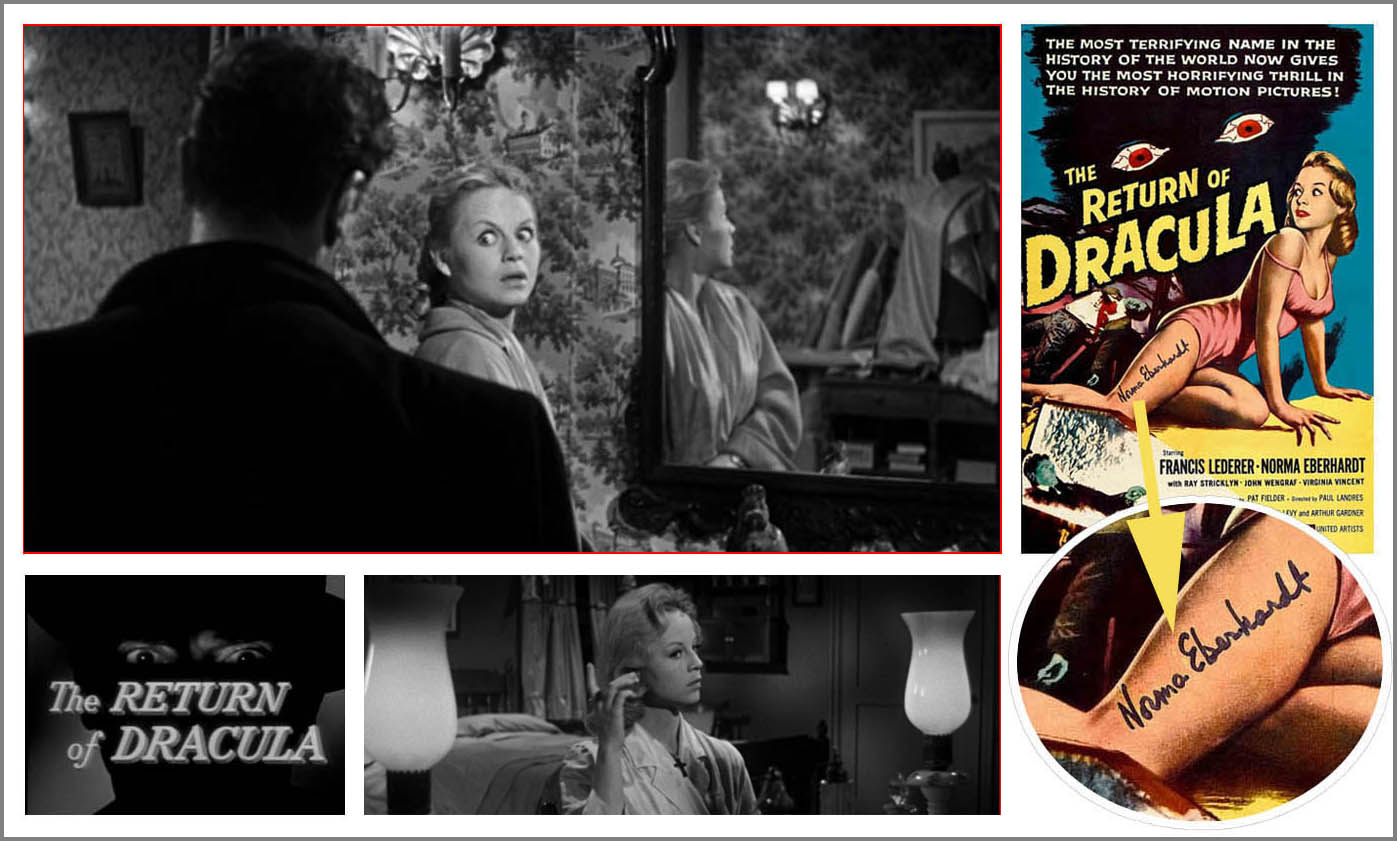 This is an original signature by Norma Eberhardt, who starred in "The Return of Dracula" .
Though this was not a Hammer production it still remains a favourite!
Dale was fascinated how blood was depicted on film and has made slight modifications over the years
to produce a stage blood that possesses a realistic sheen for film and television productions.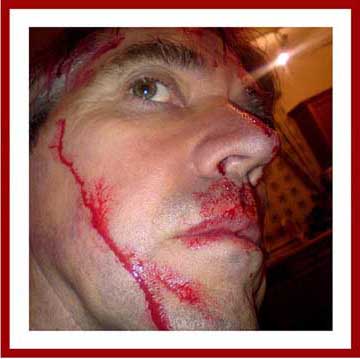 Dale Dempsey showing his bloodline!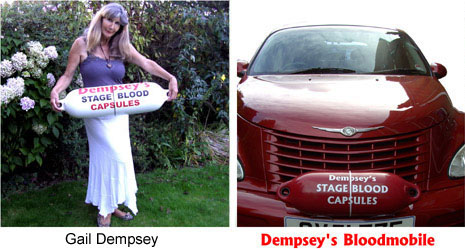 Gail Dempsey, Dale's wife, was a professional model in the 1970's - 80's and is the face of many of our products!
Gail was also a Staff Nurse and worked in theatre, her knowledge of blood and surgical equipment has been important
in the development of our products, particularly our Fake IV Bags and Blood Spurter Kits.

Production Manager, Seb Dempsey is in charge of manufacturing,
quality control and product development.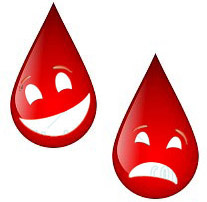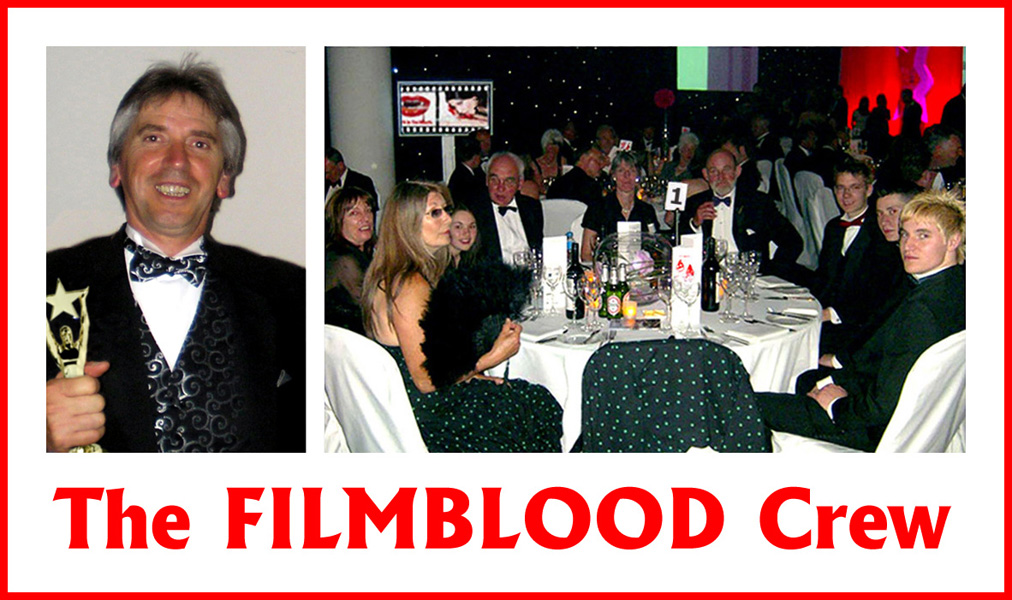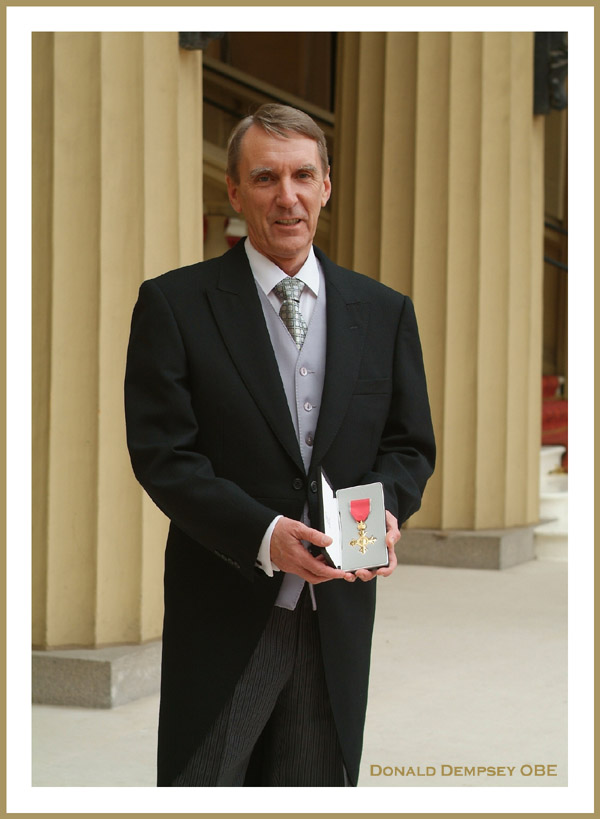 We were very proud when Donald was awarded his OBE.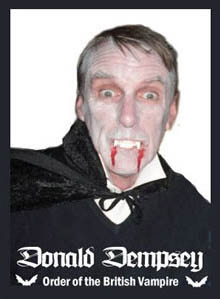 However, perhaps he should also have received the 'Order of the British Vampire'
for his recent performance at his local pub at Halloween.